Posts for: June, 2016
By Dr. Malenius
June 25, 2016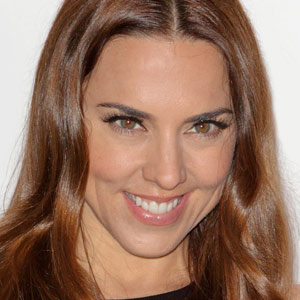 As a member of the best-selling pop group Spice Girls, Mel C (AKA Sporty Spice) enjoyed her share of musical superstardom. At the band's peak in the Nineties, the young singer's signature look featured baggy sweatpants, an assortment of tattoos, a nose stud and a gold-capped incisor, front and center in her mouth. Today, Melanie Chisholm is still singing — but now she's a mom, an amateur triathlete… and that gold tooth is just a memory. Not only that, her smile looks more evenly spaced and whiter than it did when she was referred to as the "tomboy" of the group.
What happened? In our view, it all boils down to changing tastes — plus a little bit of help from dental professionals. As the "wannabe" singer proves, there's no single standard when it comes to making your teeth look their best. Your own look is unique to you — and your smile can reflect that individuality.
For example, crowns (caps) are substantial coverings that may be placed on teeth when they are being restored. They are available in three types: gold, all-porcelain, or porcelain-fused-to-metal. The latter two are tooth-colored, while the gold is — well, shiny like gold bling. Which one is right for you? In many cases, it's your choice.
Likewise, dental veneers — wafer-thin shells that can correct cosmetic issues by covering the surface of your teeth — can be made in a variety of shades. Their hues may range from natural ivory to Hollywood white, and everything in between. What's the best color for you? Only you can say.
Some people opt for a "smile makeover" that uses small irregularities in the spacing and color of teeth to create a more "natural" look. Other folks want a perfectly even, brilliant white smile that dazzles the eye. Still others are looking to match or restore the smile they once had — perhaps even re-creating a signature gap between the teeth. As long as there are no other dental issues involved, the choice is yours.
So if you're unhappy with your smile — or if you feel it doesn't reflect the person you "wannabe" — why not talk to us about a smile makeover? Just call our office to schedule a consultation. You can learn more about this topic in the Dear Doctor magazine articles "Beautiful Smiles by Design" and "The Impact of a Smile Makeover."
By Dr. Malenius
June 10, 2016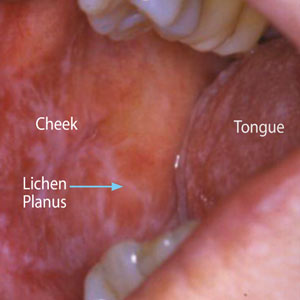 If you notice a small sore or a change in the appearance of the tissues inside your mouth, don't panic. It's likely a common, minor ailment that appears on a lot of skin surfaces (like the wrists or legs) besides the cheeks, gums, or tongue.
These small sores or lesions are called lichen planus, named so because their coloration and patterns (white, lacy lines) look a lot like lichen that grow on trees or rocks. They're only similar in appearance to the algae or fungi growing in the forest — these are lesions thought to be a form of auto-immune disease. Although they can affect anyone, they're more common in women than men and with middle-aged or older people.
Most people aren't even aware they have the condition, although some can produce itching or mild discomfort. They're often discovered during dental checkups, and although they're usually benign, we'll often consider a biopsy of them to make sure the lesion isn't a symptom of something more serious.
There currently isn't a cure for the condition, but it can be managed to reduce symptoms; for most people, the lesions will go away on their own. You may need to avoid spicy or acidic foods like citrus, tomatoes, hot peppers or caffeinated drinks that tend to worsen the symptoms. If chronic stress is a problem, finding ways to reduce it can also help alleviate symptoms as well as quitting tobacco and reducing your alcohol intake.
Our biggest concern is to first assure the lesion isn't cancerous. Even after confirming it's not, we still want to keep a close eye on the lesion, so regular monitoring is a good precaution. Just keep up with the basics — good oral hygiene and regular checkups — to ensure you have the most optimum oral health possible.
If you would like more information on lichen planus lesions, please contact us or schedule an appointment for a consultation. You can also learn more about this topic by reading the Dear Doctor magazine article "Lichen Planus: Mouth Lesions that are Usually Benign."