Dr. Robert Malenius
Dentists Serving Wheaton, IL Since 1979
Robert Malenius, DDS
Dr. Bob Malenius opened his dental practice in Wheaton in 1979, providing patients and their families with general and cosmetic dentistry services throughout the western suburbs of Chicago. Dr. Malenius was graduated with honors from Loyola University where he received undergraduate degrees from the school of Arts and Sciences and was voted Biology Student of the Year in 1972. At Loyola he was inducted into Alpha Sigma Nu, a Jesuit academic honor society, and Beta Beta Beta, a biology academic honor society. He received his Bachelor Of Arts in Dentistry and a Doctor of Dental Surgery from the University of Illinois, graduating with honors, and also was inducted into the Omicron Kappa Upsilon, a dental honor society. After graduating, Dr. Malenius was a clinical instructor at the University of Illinois, teaching fixed prosthetics and full mouth reconstruction.
Dr. Malenius is an active member of the American Dental Association, the American Academy of General Dentistry, the Academy of Laser Dentists, the Illinois State Dental Society, the Chicago Dental Society, the West Suburban Dental Society, the DuPage Implant Study Club and the Wheaton Dental Society. He is certified in various laser and cosmetic dental techniques and has been active in implant dentistry since he began his practice.
A native of Itasca, Illinois, Dr. Malenius is an avid musician, a gifted photographer and an outdoor sportsman. He and his wife, Tina, have two children: Courtney, who has received her Masters Degree from New York University and was the Associate Director of Undergraduate Admissions at New York University and  is now  the associate director of Graduate Studies at Parsons New School of Design in New York City,  and Justin, who also graduated from NYU, is currently a practicing attorney since graduating law school at Loyola University- Chicago.
Linda M. McManus, RDH, B.S.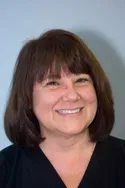 Linda McManus is a dental hygienist and has worked with Dr. Malenius and Associates since 2003. She was graduated from the Loyola School of Dentistry in 1992, and graduated magna cum laude in 1994 from Loyola University in Chicago with a bachelor of science degree. Linda is a member of Phi Theta Kappa, Alpha Sigma Nu and the Golden Key Honor Societies.
Over the years, Linda has worked at a variety of suburban and city dental practices, and she served as the dental hygiene and education coordinator at Loyola Medical Center's Oral Health Center for eight years, providing general patient care and protocol development for special patients populations, including those with head and neck cancer and transplant patients. She was also responsible for department and hospital in-services as well as implementation and compliance of OSHA standards.
Linda also served as the District Dental Hygienist in LaGrange where she cared for an indigent patient population. Her favorite aspect of her job is the patients, Linda says, and in addition to her work, she keeps busy with three grown children and their families, including five grandchildren and her three puppies.