Posts for tag: tooth decay
By Dr. Malenius
January 26, 2021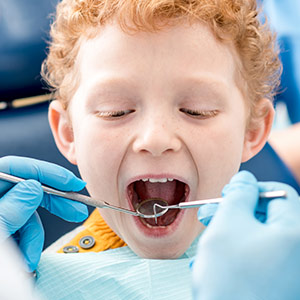 Tooth decay can be a big problem for children's primary (baby) teeth. It doesn't take long for a tooth to become infected and the infection spread to their neighbors.
But since it will eventually give way to a permanent tooth, why not just pull a diseased primary tooth? Although that sounds sensible, there are important reasons for helping a troubled primary tooth survive to its natural end.
Current usefulness. They may not be around for long, but primary teeth serve children well while they have them. They enable a child to eat solid foods to further their physical development. They also figure prominently in speech development, which could be stunted by lost teeth.
The smile factor. Young children are also honing their social skills, and smiling is an important part of learning to fit in with family and friends. A tooth that's missing for some time, especially in the "smile zone," could affect their smile and have an adverse effect on their social development.
Future teeth health. A primary tooth reserves the space intended for the future permanent tooth, helping to ensure the incoming tooth erupts in the right position. If it's not there, however, other teeth can drift into the space, crowding the incoming tooth out of its proper alignment.
That last reason could have the most long-term effect, causing the development of a poor bite that could require extensive orthodontic treatment. To avoid this and any other physical or social consequences accompanying its premature loss, it's worth the effort to try to protect and save a primary tooth.
Preventively, we can apply sealants on biting surfaces more prone to plaque buildup (the main cause of decay) and topical fluoride to strengthen enamel. When decay does occur, we may be able to remove it and fill the tooth, cap a tooth with a steel crown, or even use a modified root canal procedure in the case of advanced tooth decay.
The best way, however, to protect your child's primary teeth is to brush and floss them every day. Removing harmful plaque vastly reduces the risk of tooth decay. Coupled with professional dental care, your child can avoid tooth decay and get the most out of their primary teeth.
If you would like more information on children's dental care, please contact us or schedule an appointment for a consultation. You can also learn more about this topic by reading the Dear Doctor magazine article "Importance of Baby Teeth."
By Dr. Malenius
April 21, 2020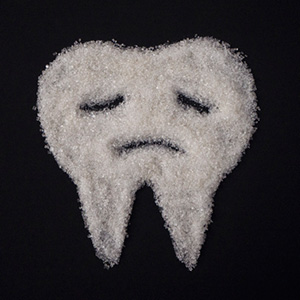 You've heard it. Your parents heard it—maybe even your grandparents too. Dentists have been alerting people for more than half a century that high sugar consumption contributes to tooth decay.
That message hasn't changed because the facts behind it are the same in the 2020s as they were in the 1950s: The bacteria that cause tooth decay feast on sugar and other leftover carbohydrates in the mouth. This causes them to multiply and increase their production of acid, which softens and erodes tooth enamel.
What has changed though, especially over the last couple of decades, is a growing understanding of how sugar consumption may affect the rest of the body. Just like the evidence of sugar's relationship to tooth decay, current scientific studies are now showing there are strong links between sugar and diseases like diabetes, heart disease and liver disease.
What's startling about what researchers are finding is that cases of these diseases are growing, Especially in younger people. This is a parallel trend to our skyrocketing increases in per capita sugar consumption: the average American now eats the equivalent of 19.5 teaspoons of added sugar every day. Health experts generally agree we should consume no more than 6 teaspoons a day, and children 4.
This is vastly more than we consumed a generation ago. One reason is because processed food manufacturers have increased sugar in their products, hiding under technical, unfamiliar names in ingredient lists. But it's still sugar, and an estimated 74% of processed foods contain some form of it.
But the real surge in sugar has come from our increasing consumption of sodas, as well as energy and sports beverages. These beverages are high in sugar—you can meet your daily allowance with just one 12-oz can of soda. These beverages are now the leading source of sugar in our diets, and, according to experts, a highly dangerous way to consume it.
In effect, dentists of old were on to something: too much sugar is bad for your teeth. It now turns out that it may be bad for your overall health too. Strictly limiting it in your family's diet could help lower your risk of tooth decay and dangerous diseases like diabetes.
If you would like more information on sugar and your health, please contact us or schedule an appointment for a consultation.
By Dr. Malenius
June 22, 2017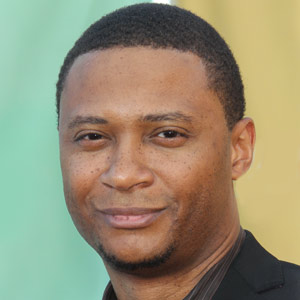 Cavities can happen even before a baby has his first piece of candy. This was the difficult lesson actor David Ramsey of the TV shows Arrow and Dexter learned when his son DJ's teeth were first emerging.
"His first teeth came in weak," Ramsey recalled in a recent interview. "They had brown spots on them and they were brittle." Those brown spots, he said, quickly turned into cavities. How did this happen?
Ramsey said DJ's dentist suspected it had to do with the child's feedings — not what he was being fed but how. DJ was often nursed to sleep, "so there were pools of breast milk that he could go to sleep with in his mouth," Ramsey explained.
While breastfeeding offers an infant many health benefits, problems can occur when the natural sugars in breast milk are left in contact with teeth for long periods.  Sugar feeds decay-causing oral bacteria, and these bacteria in turn release tooth-eroding acids. The softer teeth of a young child are particularly vulnerable to these acids; the end result can be tooth decay.
This condition, technically known as "early child caries," is referred to in laymen's terms as "baby bottle tooth decay." However, it can result from nighttime feedings by bottle or breast. The best way to prevent this problem is to avoid nursing babies to sleep at night once they reach the teething stage; a bottle-fed baby should not be allowed to fall asleep with anything but water in their bottle or "sippy cup."
Here are some other basics of infant dental care that every parent should know:
Wipe your baby's newly emerging teeth with a clean, moist washcloth after feedings.
Brush teeth that have completely grown in with a soft-bristled, child-size toothbrush and a smear of fluoride toothpaste no bigger than a grain of rice.
Start regular dental checkups by the first birthday.
Fortunately, Ramsey reports that his son is doing very well after an extended period of professional dental treatments and parental vigilance.
"It took a number of months, but his teeth are much, much better," he said. "Right now we're still helping him and we're still really on top of the teeth situation."
If you would like more information on dental care for babies and toddlers, please contact us or schedule an appointment for a consultation. You can also learn more by reading the Dear Doctor magazine articles "The Age One Dental Visit" and "Dentistry & Oral Health for Children."